Apple Macbook Chargers
Show Filters
Choosing the Right Power Adapter
For MacBook Air
Power Adapter: 45W or Higher
Pin Interface: 

MacBook Air 2008 – – Magsafe 1
MacBook Air 2009 – – Magsafe 1
MacBook Air 2010 – – Magsafe 1
MacBook Air 2011 – – Magsafe 1
MacBook Air 2012 – Magsafe 2
MacBook Air 2013 – Magsafe 2
MacBook Air 2014 – Magsafe 2
MacBook Air 2015 – Magsafe 2
MacBook Air 2016 – Magsafe 2
MacBook Air 2017 – Magsafe 2
MacBook Air 2018 – USB-C
MacBook Air 2019 – USB-C
MacBook Air 2020 – USB-C
MacBook Air 2021 – USB-C
For MacBook Pro 13-inch
Power Adapter: 60W or Higher
Pin Interface: 

MacBook Pro 13-inch 2009 – Magsafe 1
MacBook Pro 13-inch 2010 – Magsafe 1
MacBook Pro 13-inch 2011 – Magsafe 1
MacBook Pro 13-inch 2012 – Magsafe 1
MacBook Pro 13-inch 2012 Late – Magsafe 2
MacBook Pro 13-inch 2013 – Magsafe 2
MacBook Pro 13-inch 2014 – Magsafe 2
MacBook Pro 13-inch 2015 – Magsafe 2
MacBook Pro 13-inch 2016 – USB-C
MacBook Pro 13-inch 2017 – USB-C
MacBook Pro 13-inch 2018 – USB-C
MacBook Pro 13-inch 2019 – USB-C
MacBook Pro 13-inch 2020 – USB-C
MacBook Pro 13-inch 2021 – USB-C
For MacBook Pro 14-inch
Power Adapter: 67W or Higher
Pin Interface: 

MacBook Pro 14-inch 2021 – USB-C / MagSafe 3
For MacBook Pro 15-inch
Power Adapter: 85W or Higher
Pin Interface: 

MacBook Pro 15-inch 2006 – Magsafe 1
MacBook Pro 15-inch 2007 – Magsafe 1
MacBook Pro 15-inch 2008 – Magsafe 1
MacBook Pro 15-inch 2009 – Magsafe 1
MacBook Pro 15-inch 2010 – Magsafe 1
MacBook Pro 15-inch 2011 – Magsafe 1
MacBook Pro 15-inch 2012 – Magsafe 1
MacBook Pro 15-inch 2012 Late – Magsafe 2
MacBook Pro 15-inch 2013 – Magsafe 2
MacBook Pro 15-inch 2014 – Magsafe 2
MacBook Pro 15-inch 2015 – Magsafe 2
MacBook Pro 15-inch 2016 – USB-C
MacBook Pro 15-inch 2017 – USB-C
MacBook Pro 15-inch 2018 – USB-C
MacBook Pro 15-inch 2019 – USB-C
For MacBook Pro 16-inch 2019, 2020
Power Adapter: 96W or Higher
Pin Interface: 

MacBook Pro 16-inch 2019 Late – USB-C
MacBook Pro 16-inch 2020 – USB-C
For MacBook Pro 16-inch 2021 Upwards
Power Adapter: 140W or Higher
Pin Interface: 

MacBook Pro 16-inch 2021 – USB-C / MagSafe 3
For MacBook Pro 17-inch
Power Adapter: 85W or Higher
Pin Interface: 

MacBook Pro 17-inch 2006 – Magsafe 1
MacBook Pro 17-inch 2007 – Magsafe 1
MacBook Pro 17-inch 2008 – Magsafe 1
MacBook Pro 17-inch 2009 – Magsafe 1
MacBook Pro 17-inch 2010 – Magsafe 1
MacBook Pro 17-inch 2011 – Magsafe 1
MagSafe 1 vs 2 – Interface Comparison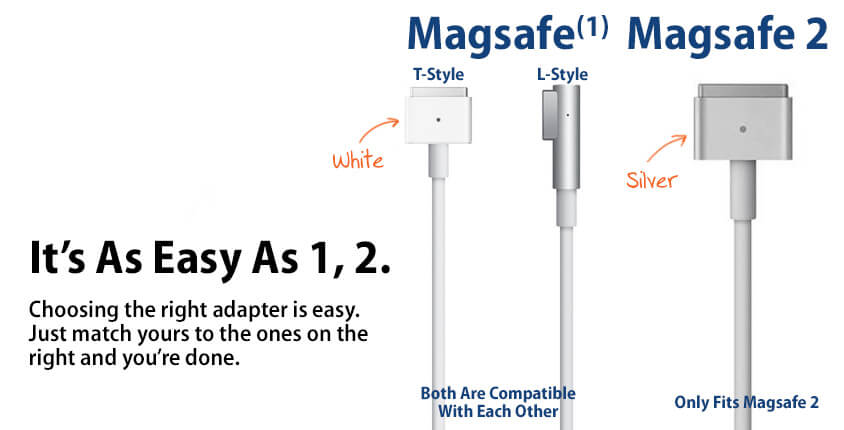 Is it safe to use a different wattage charger for MacBook
If you cannot find the appropriate wattage power adapter for your specific MacBook, you can use a power adapter with higher wattage.
For example: an 85W adapter can be used instead of a 45W for your Macbook Air. It's 100% safe.
Using a lower wattage adapter than recommended is not going to work.
For example: If 85W is the power requirement of your MacBook, a 45W or 60W will not be enough to charge your Macbook.
Source: https://support.apple.com/en-us/HT201700
Can I Use a Different USB-C Adapter than from Apple?
It's safe under 3 conditions:
Choose the right power wattage
Use original branded power adapter such as Anker or BASEUS
Use original branded USB-C cable.